The ADAMS LAKE COMPLEX and Kelowna Fires have devastated many communities in the interior this summer. We know that many people have been displaced as a result, and a large number are still at home fighting fires to proteCt thier properties. 
With the many challenges for air firefighters caused by smoke, and ground risks associated with wildfires, there is a huge need for equipment and supply support. We have tried to supply this in any way we can by sending equipment to the region to support the fire fighting efforts. 
With over 160 homes lost in the North Shuswap and surrounding areas and over 200 in Kelowna, help is required everywhere. 
Thank you to everyone who has helped with this effort, and made resources available to support the cause. May God Bless these efforts and portect each and every person who is affected by these destructive events.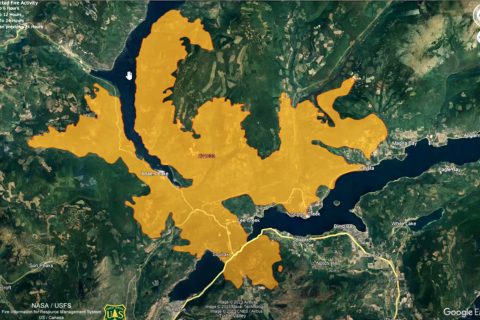 LEFT: A flyover of the Celista, BC Area after the main fire came through. 
RIGHT: The extent of the Adams Complex Fire as at August 28th, 2023. 
Here are some photos of the Lee Creek, Scotch Creek, and Celista areas that have been deeply affected, and some of the selfless individuals who are helping to get supplies to those who need them most. May God Bless and Protect you in all that you do to help. 
Thank you to those who are assisting in delivery of Supplies to the North Shuswap by providing the transportation and Logistics to make it happen. 
        For more information Contact US at 778-434-7329 (778-434-7DAY)